> EPW Home >Roads and Grounds >Water and Sewer >Building Maintenance
Roads and Grounds Division
The Roads and Grounds Section of the Department is responsible for:
maintenance of all streets, sidewalks, curbs and parking areas
winter maintenance and snow removal
grass cutting, tree trimming and removal, flower beds
fleet vehicle and equipment maintenance and repairs
Winter Maintenance and Snow Removal
As winter approaches every year, the Town's snow and ice removal plan is updated in order to add new streets. Priorities are set based on the importance of streets to Oromocto's overall transportation network. The Engineering and Public Works Department endeavours to minimize the effects of snow and ice on residents. Motorists, however, are reminded that you are responsible for adapting to road conditions. If streets are slippery, slow down.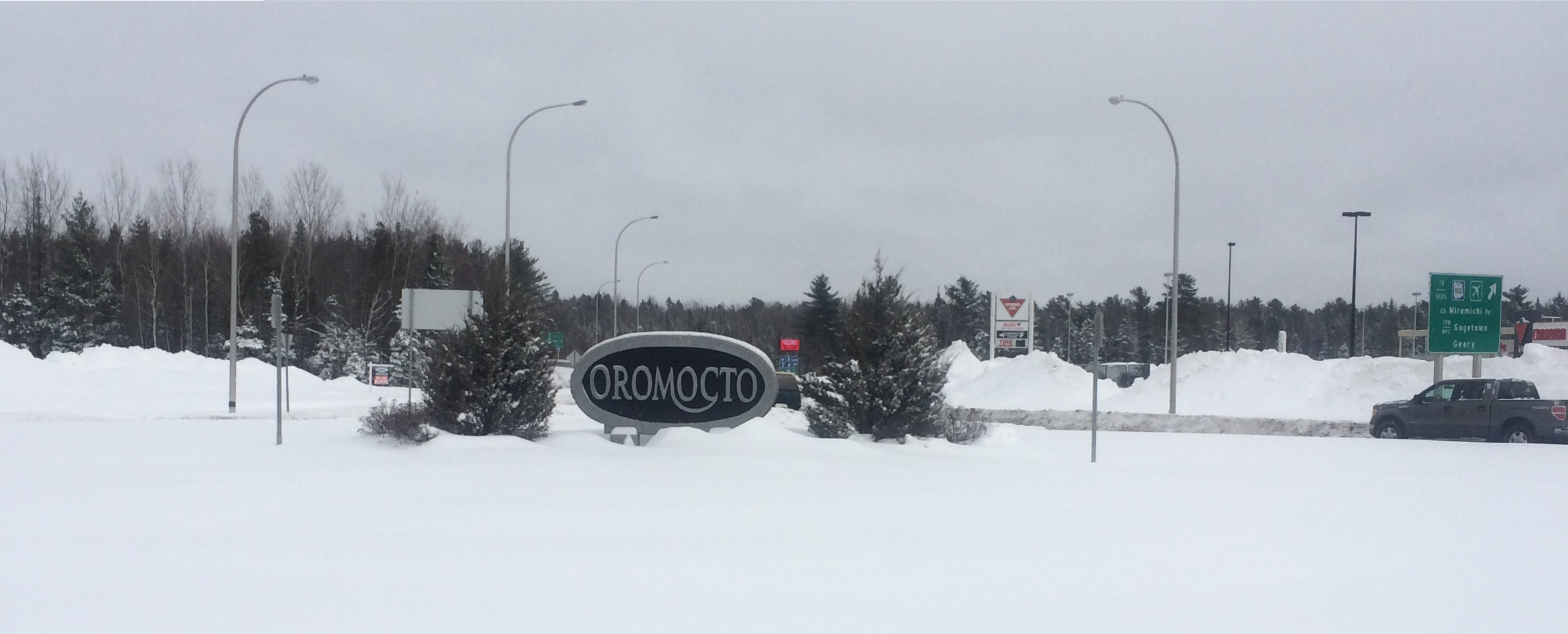 The Department of Engineering and Public Works provides plowing and sanding/salting services according to the following priorities:
Major arteries and hospital routes (Example: Wassis Road)
Collector Streets (Example: Blackwatch Avenue)
Residential Streets and Minor Roads (Example Craig Street).
Before making decisions, those responsible for snow removal must take the following factors into account: light snow, heavy wet snow, ice, hail, weather forecasts, time of day, day of the week, temperature of road surface, available equipment, safety, etc. After these factors are determined, teams are dispatched for street snow and ice removal. Priorities are also established for snow and ice removal from sidewalks, parking lots and fire hydrants.
The Town is responsible for snow and ice removal for approximately:
86.67 kilometres of roadways
27.74 kilometres of walkways (sidewalks and trails combined)
440 fire hydrants
and some parking areas.
Please note that it is not possible to produce bare pavement on all streets immediately. It is to everyone's benefit that the high traffic volume streets are plowed first.
Sidewalks
The Works Department plows and sands many of the Town's sidewalks and pathways. Priority is given to sidewalks in school areas and along main streets. Sidewalks are usually plowed during snow storms with a clean-up following. It is not possible to produce bare sidewalks in all conditions and pedestrians are urged to exercise caution.
Trails
The Town is responsible for snow removal from its trails. Priorities are determined based on user needs. For example, trails leading to schools are cleared of snow first. Trails located in wooded areas must be cleared during the day when sunlight is available. After a heavy snowfall, it may take up to seven days to complete the snow removal process from all trails. Not all trails are cleared, trails in Deepr Park as well as Gateway Marsh are groomed for multi-use activity.
Widening
At times during the winter months it is necessary to widen streets by either pushing the snow banks back with the snow plow wings or, in some cases, using the large snow blowers. This practice is necessary to make room for subsequent snow storms. The displaced snow is kept within street right-of-way, where possible.
I just shovelled the end of my driveway and the snowplow just filled it back in
Snowplows must sometimes pass by several times to completely remove snow from a street. Whenever possible, wait until the end of snow removal operations before removing snow from the end of your driveway. This way, you will just have to remove the snow once.
Lawn Damage
Snow removal staff do everything possible to avoid damaging lawns. Despite this, damage may sometimes occur. A list of damaged lawns is kept and repairs are carried out the following spring.
By-Laws/Regulations:
On street parking is not allowed under Town By-Laws. This is strictly enforced during snow plowing operations and violators will have their vehicles towed.
The placement of snow from a driveway or parking lot onto Town streets is forbidden.
When plows arrive in your court or parking area please move your car to allow for better and complete snow clearing.
Snow Tips:
Ensure your vehicle is in good working condition for the winter (tuned up, winter tires, etc.)
If it is not essential for you to be on the road during a severe storm, please stay home.
To help prevent localized flooding, try to keep the catch basin adjacent to your property free from snow and ice.
Drive carefully. The Works Department attempts to minimize the impact of snow and ice. However, it is each motorist's responsibility to drive according to road conditions. If it is slippery, slow down!