Oromocto works in cooperation with a number of business development organizations to help expand and grow its business base. The following organizations offer assistance to small business from counselling services and training to financial assistance. More information is available by clicking on the links below:

Oromocto and Area Chamber of Commerce
Tel: (506) 446-6043
Fax: (506) 446-6925
Email: oromoctochamber@nb.aibn.com
Website: www.oromoctochamber.com
The Oromocto and Area Chamber of Commerce is an organization of over one hundred businesses, managed by a board of volunteer directors elected to represent the local business community. The Chamber board meets monthly to discuss ways in which to meet and improve the needs of the membership. Each year we strive to offer benefits designed to assist you in your business, and to save you both time and money. As the membership continues to grow, we continually look for new and innovative ways in which to be of value to the members...read more.



Ignite Fredericton - Oromocto's Economic Development Partner
Tel: (506) 444-4686
Fax: (506) 444-4649
Email:info@ignitefredericton.com
Website: www.ignitefredericton.com
Ignite Fredericton can provide the rocket fuel to get you started! As your community economic development organization (not-for-profit), we offer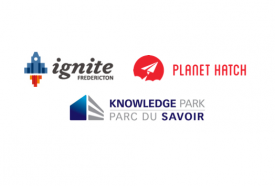 free and confidential business counselling and tools to help you START, GROW or LOCATE your business!
Our core functions include:
Supporting Entrepreneurs

Attracting & Retaining Talent through Immigration

Strengthening the Economic Development Ecosystem through Strategic Initiatives and Partnerships.

Opportunities New Brunswick
Tel: 1.506.453.5471
Toll free: 1.855.746.4662
Fax: 1.506.444.4277
Email: info@onbcanada.ca
Website: http://onbcanada.ca/
Discover unlimited opportunities in New Brunswick.

Discover why our skilled and motivated workforce, world-class communications infrastructure, unsurpassed quality of life and our low corporate income tax is the ideal entrepreneurial ecosystem to grow, expand, or locate your business in New Brunswick.

Opportunities NB is your single point of entry to grow your business. Strategically located in Atlantic Canada, let our professionals open doors for you creating the right environment for increased competitiveness and growth opportunities Learn more...

Atlantic Canada Opportunities Agency
Tel: (506)452-3184
Fax: (506) 452-3285
Toll Free: 1-800-561-4030
Website: www.acoa-apeca.gc.ca

The Atlantic Canada Opportunities Agency works to create opportunities for economic growth in Atlantic Canada by helping businesses become more competitive, innovative and productive, by working with diverse communities to develop and diversify local economies, and by championing the strengths of Atlantic Canada. Together, with Atlantic Canadians, we are building a stronger economy.


Canada Business Network
Tel: (506) 444-6140
Fax: (506 )444-6172
Toll Free: 1-800-668-1010
Email: cbscnb@cbsc.ic.gc.ca
Website: www.canadabusiness.ca/eng/




Southwest Valley Development Corporation
Tel: (506) 366-3022
Fax: (506) 366-3444
Toll Free: 1-888-303-2232
Email: heather.hubert@cbdc.ca
Website: www.cbdc.ca/en/new-brunswick-association-of-cbdcs/cbdc-southwest

Located throughout rural New Brunswick, the 10 CBDC offices are there to help potential and existing entrepreneurs living in rural communities access capital and other business resources.
We are not-for-profit organizations run by volunteers from the local business community who firmly believe in improving the economic viability of their region. We are high risk niche lenders who do not compete with conventional lenders, but work with those entrepreneurs who have difficulty securing capital through traditional sources. Read more...