Would you like a challenging and rewarding volunteer activity?
Oromocto Fire Department is an organization dedicated to saving lives and protecting property through fire prevention, suppression and public education. We are committed to continuous learning and superior customer service. If you like helping people, appreciate continuous learning, and are physically fit; you may be an ideal candidate for a position as a volunteer firefighter.
The Volunteer firefighter performs firefighting duties and other related work as required. This is manual work of a hazardous nature involving the fighting of fires, salvage, rescue work, and first aid. Firefighters may be required to make decisions and work without supervision until an Officer arrives at the scene.
Responds to fire, rescue, hazardous materials emergencies and other emergencies as assigned.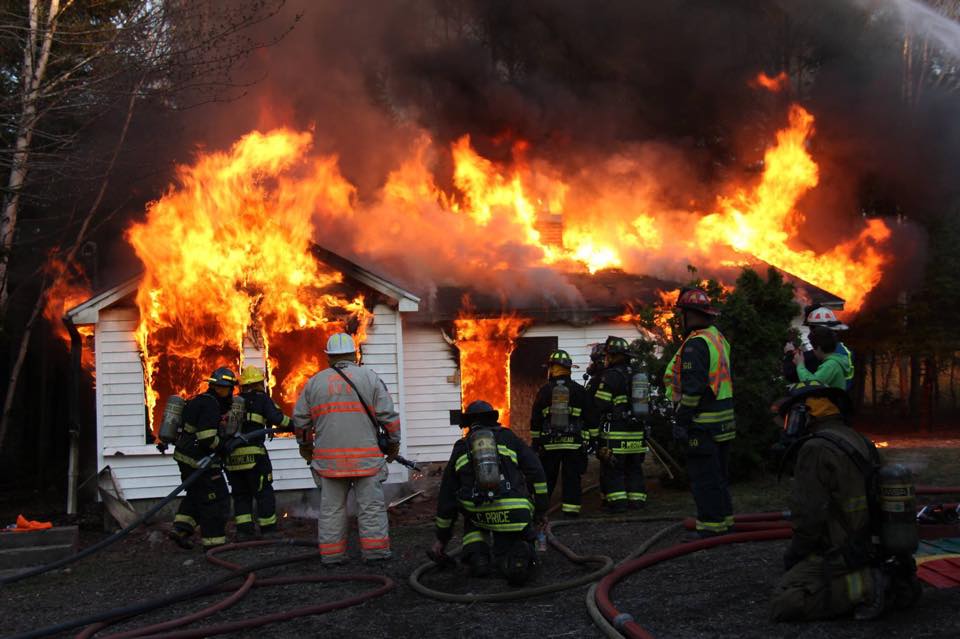 • Handles fire hoses and directs fire streams.
• Operates a pressure pump as assigned.
• Operates elevating devices as assigned.
• Drives fire apparatus as assigned.
• Carries, puts up and climbs ladder.
• Operates rescue equipment.
• Performs salvage work at fire and emergency scenes.
• Performs ventilation by making openings in buildings, using exhaust fans or fog streams.
• Enters burning or contaminated buildings, structures, and other areas to perform rescues and/or fight fires while wearing required clothing and safety equipment.
• Provides first aid to the injured.
• Assists in cleaning and preparing firefighting equipment to in-service status upon return to the station after an emergency call or a practice.
• Attends regular training sessions to practice procedures and to learn firefighting and rescue methods.
• Cleans and maintains areas of the fire station used by the members as scheduled.
• Assists with the fire prevention program.
• Other duties as assigned.
Technical Skills:
• Must possess a valid driver's license, minimum Class 5.
Behavioural Competencies:
• Communication
• Customer Service
• Flexibility
• Teamwork and Cooperation
• Valuing Diversity
Other:
• Ability to get along well with others.
• Willingness to perform tasks as assigned.
• Conscientious and dependable.
• Ability to pass Department medical and physical test.
Working Conditions:
• Expected to respond to and work in all types of weather under less than ideal conditions.
• Monitors radio communications for response area and responds to emergency calls on a 24 hour basis.
• May involve entering hazardous atmospheres and areas at some personal risk.
• Expected to work in a safe manner - in accordance with all applicable Acts, Regulations, Policies.
• Must have the ability to endure mental and physical stress associated with emergency situations in difficult environments.
• Must be able to meet minimum physical demands required of this position.
• Extra time - evenings and weekends to attend volunteer, staff and community meetings/functions.
How do I apply to become a volunteer firefighter?
(1) You can pick up an application at Station 1 located at 50 Miramichi Road from our Administration office (506) 357-4444 from 0830 to 1630hrs, or download this application form.
You will be contacted about your application.
(2) Submit the application form to Oromocto Fire Department, 50 Miramichi Road, Oromocto, NB E2V 1S2 with the following attachments:
Criminal Background Check, RCMP Station 4 Doyle Drive
Photocopy Of Driver's License Front & Back
(3) If there is a vacancy, you will be contacted for an interview.
(4) Medical Assessment from your family doctor
What will be expected of me as a volunteer firefighter?
On average, 20-25 hours per month of training, emergency responses, meetings
New recruits successfully complete Basic Firefighting training.
Volunteer firefighters work in stressful and emotional circumstances and conditions.
What are the benefits of being a volunteer firefighter?
An honorarium is paid to active members based on their participation in training and emergency responses

Life insurance

Volunteer Firefighters & Family Assistance Program

Serving your community

Developmental opportunities

Meeting people

Being on a team

Personal reward, excitement, fun
Career positions are posted at times of hiring.